Planning to visit the Riviera Maya – then you definitely need to put cenotes on your to-do list. Cenotes are sinkholes made in different conditions over thousands of years, so each one is unique. Be it for having different formations inside, open-air cenotes, or closed caverns – each one is definitely special.

If you are staying in Playa del Carmen you'd be lucky to have a big list of cenotes to choose from. Playa del Carmen is the middle point between Tulum and Cancun, and you get easy access to both breathtaking beaches and top cenotes, too. Even if you are in Playa del Carmen for week, Here's our list of which cenotes to visit, how to get to them, and some major characteristics of each, to make your choice of what cenotes to visit easy. Browse our map of cenotes near Playa del Carmen.
Cenote Chaak Tun


distance from Playa del Carmen: 6.3km – 20 min by collectivo / car / bike or 1h 20 min walking
entrance fee: 100 MXN
suitable for: swimming, snorkeling
This is the closest cenote to Playa del Carmen,  but also not a very popular one. Cenote Chaak Tun is characterized by large caverns flooded up to your knees. There are two caverns, each one with a different entrance, the large one with a spiral staircase. While descending through the cavern you will see you are surrounded by all kinds of limestone formations, formed thousands of years ago.
It may be astonishing to observe all around the ceiling and the walls. You can find inside: stalagmites, stalactites, and columns. Please remember that these formations should not be touched while you are exploring. We highly recommend hiring a local guide to show you around the cenote.
From our list of what cenotes to visit near Playa del Carmen – Cenote Chaak Tun is the first, as you can just rent a bike and quickly get there and have a quite day in the water.
Cenote Azul in Puerto Aventuras
distance from Playa del Carmen: 24.6km – 30 min by collectivo /car or 1h 13 min by bike
entrance fee: 140 MXN for adults
suitable for: swimming, snorkeling, cliff jumping
Cenote Azul is one of the best cenotes near Playa del Carmen. It is an open-air one and you can swim in its fresh clear crystal waters. Surrounded by nature, and a jungle of mangroves, cenote Azul is perfect for a relaxing day. This cenote is known for its spectacularly blue water, many pools with different depths, schools of fish inside and the possibility to go cliff jumping into the water.
It is located 20 min away from Playa del Carmen, in Puerto Aventuras town. It is really easy to get. Driving some kilometers south you will find the road sign for its entrance on the right. You can also take public transportation: Collectivo, tell the driver you are going to Cenote Azul and they will let you know where to get off.
It is highly recommended to visit this cenote early in the morning – not later than 9 am – because around 11 am and noon it gets really busy and it is already pretty hot.  If you are planning to use public transportation you should take the collective to Tulum. The ticket is 2 USD one way, a taxi can charge up to 35 USD.
Cenote Cristalino in Puerto Aventuras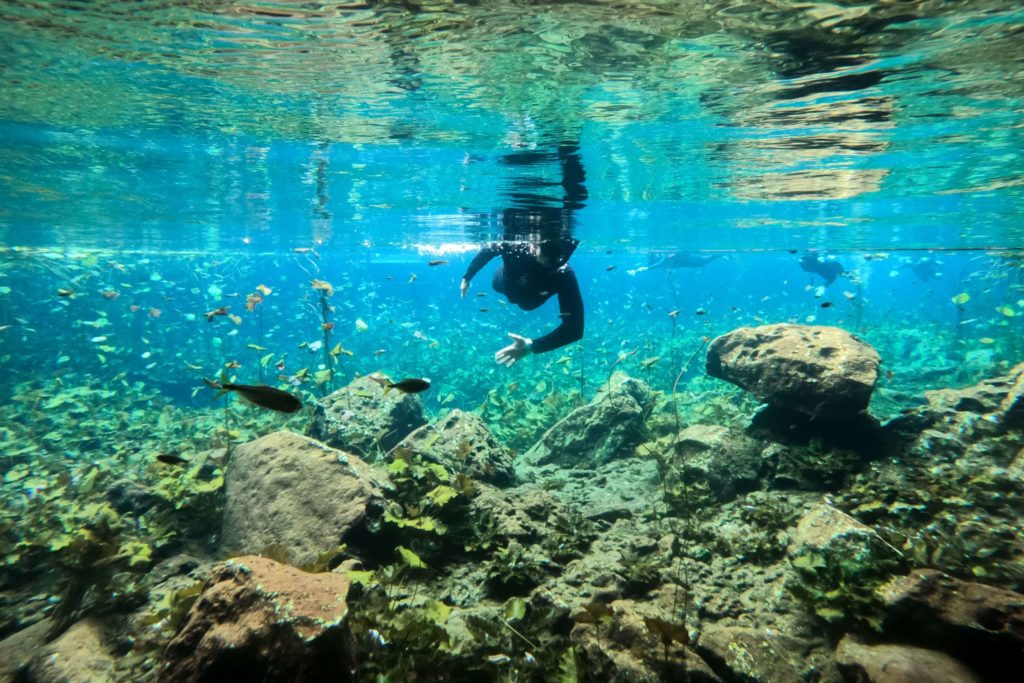 distance from Playa del Carmen: 23.7km – 30 min by collectivo /car or 1h 11 min by bike
entrance fee: 150 MXN for adults
suitable for: swimming, snorkeling, cliff jumping
Cristalino means crystal, logically because of the crystal blue waters of this cenote. It is an open-air cenote – a big U-shaped natural pool with different depths and surrounded by mangroves. Perfect for snorkeling, and swimming.  There is a mini cave that you can swim through and get mesmerized by the contrasting light in the crystal water. If you are brave enough you can do cliff jumping from about 4 m (12 feet).
This cenote is located in the same area as cenotes Azul and Jardin del Eden.  Just follow the instructions above for cenote Azul and you will get there.
There is a small entrance fee, around 10 USD. You pay at the entrance of the cenote and it is completely worth it. There are basic facilities such as changing rooms, bathrooms, and a small shop if you want a snack or a drink. Just consider that you should carry cash at all times.
Cenote Jardin del Eden in Puerto Aventuras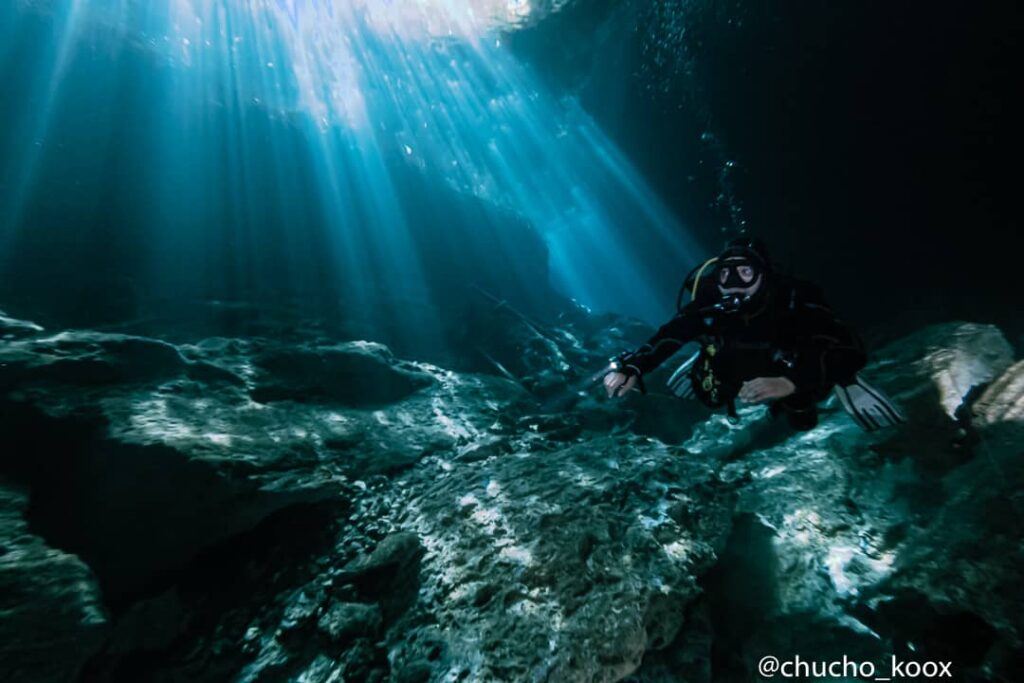 distance from Playa del Carmen: 25.3km – 30 min by collectivo /car or 1h 15 min by bike
entrance fee: 200 MXN for adults
suitable for: swimming, snorkeling, scuba diving, cliff jumping
Аlso known as Ponderosa, but more popular as just Eden – this cenote is really large with various water depths. A big open-air natural swimming pool surrounded by mangroves.
Please mind that it is usually busy as it is a preferred spot for locals and tourists. This cenote is also a popular scuba diving spot. But it is worth the visit. Even though there might be lots of people, the cenote is quite spacious and there's enough room for everyone to swim comfortably along the cenote.
In the water, you can see a wide variety of fish, blue crabs, and mangrove roots. Maybe the most interesting is the foot spa fish – just put your feet in the water and stay still and the fish will make you a natural exfoliation.
There's fun for all ages. There are some areas with shallow water perfect for kids and people that don't know how to swim but want to enjoy the freshwater. For the brave ones, there is a cliff about 5 m where you can jump into the water. Just be careful and follow the instructions for jumping. Keep an eye on the bottom before jumping because there could be people swimming below.
Cenote Eden has basic facilities such as restrooms, changing rooms, and a parking lot. You also find a small shop with snacks, drinks and even snorkeling gear for rent.
Whatever you choose the directions are the same as for cenote Azul and Cristalino.
Cenote Dos Ojos

distance from Playa del Carmen: 50.1km – 50 min by collectivo /car
entrance fee: 350 MXN
suitable for: swimming, snorkeling, guided snorkeling to Bat Cave, scuba diving, cave diving
Cenote Dos Ojos is the most famous in the Riviera Maya because of the perfectly clear water and its mesmerizing blue colour. The name means "2 eyes", as this cenote has two different entrances. Dos Ojos was discovered by plane, and as they say the 2 sinkhole entrances resemble a pair of blue eyes. Dos Ojos is a connected part of Sistema Sac Actun cave system – the longest underwater cave system in the world.
What makes Dos Ojos interesting is that it is a cavern: snorkeling in the 1st Eye you can see the formations at the ceiling and if you take a guided tour inside – you'd go to a very special spot.
In the 2nd eye, you can see a larger space for swimming and chilling. The shape of the cenote resembles an island of rocks and the space for swimming is just around the island. There are different depths in some parts of the cenote, which is why wearing a life jacket is mandatory, even in spots where you can walk.
Cenote Dos Ojos has a special spot – a hidden cave between the formations called the Bat Cave with hundreds of bats living inside it. This cave is located in the second eye and but you are not allowed to enter without a local guide. You'd also need a torch to cross mini stalactites maze.
Amazing formations everywhere: stalactites form the ceiling, and stalagmites and columns at the floor. When you are on the second eye you can see the light coming from the first eye, it is an astonishing effect of the light.
We suggest you arrive early in the morning because this is one of the most popular cenotes and gets busy at noon.
It is easy to get to Dos Ojos Park – if you are driving, you should take the highway heading to Tulum. You will drive around 35 min and you will see the signs at the right. Once you see Xel-Ha on the left so you will know you are close.
If you are planning to use public transport just take the Collective to Tulum, and tell the driver to drop you off at Dos Ojos.
Make sure to get a bottle of water & some sun protection clothing because it is a 30 min walk from the entrance to the cenote. There are two parking lots, the first one for swimmers and snorkelers, and only scuba divers can park inside the facility.
The main gate is located near the highway, you can find some small shops and restrooms. After paying your entrance fee you will get a bracelet that you will show at the entrance of the cenote. Inside Dos Ojos Park you can find basic toilets, changing rooms, souvenir shops, and even a small restaurant.
Casa Cenote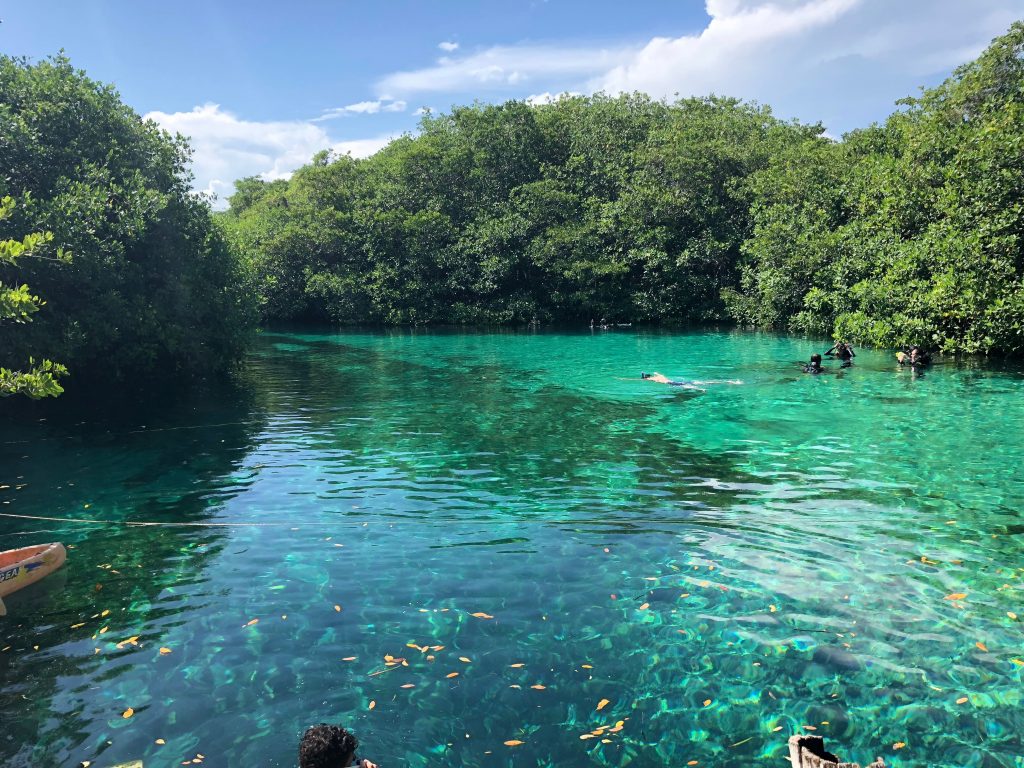 distance from Playa del Carmen: 59.3km – 50 mins with Collectivo / car
entrance fee: 150 MXN
suitable for: swimming, snorkeling, scuba diving
Imagine dipping into clear emerald water surrounded by nature. Mangroves all around a clear water river make it even a bit more surreal. Casa cenote is located at caleta tank ha, a small and quiet entrance to Soliman Bay another must-visit place – one of the most beautiful beaches in Riviera Maya.
Casa Cenote has an exotic landscape because of its unique nature. Emerald waters, open air natural swimming pool, beautiful and quiet like a paradise in the middle of the jungle. Casa cenote is also known as Cenote Manatee because there used to be manatees in this area a few years ago. Nowadays it is quite rare to see a manatee at the cenote but not impossible.
The special thing about this cenote is that it is like a river flowing into the ocean. The freshwater comes from the Sac Aktun cave system and at the end of the cenote, there's a cave connected to the ocean. This connection with the ocean makes this cenote a gem – as the unique mixture of fresh and saltwater creates a phenomenon called halocline. The different densities of water make it murky. It looks like water mixed with oil. You can observe this water effect simply by diving some meters down when you are snorkeling around, you can also feel a change in temperature while you are descending. This is called thermocline. The water from the ocean is warmer than the water coming from the cave. The combination of waters has attracted an amazing diversity of marine life including hundreds of tarpon and snapper fish, blue crabs, turtles, barracudas, green moray eels, and a surprise – even crocodiles. The mix of the cenote and ocean water makes Casa Cenote  warmer than other cenotes, around 25 C all year long.
Casa Cenote is awesome for snorkelers, but there is also a whole new world for scuba divers. Imagine rock cracks, mangrove passages, and a bottom decorated with huge rocks overgrown with mosses and green algae. This cenote looks like a natural pool, with different depths which is perfect for teaching beginners how to dive. For the experienced divers, there is a maze made of mangrove roots, a narrow crack passage between huge rocks. A new jungle underwater.
General Cenote Visiting Tips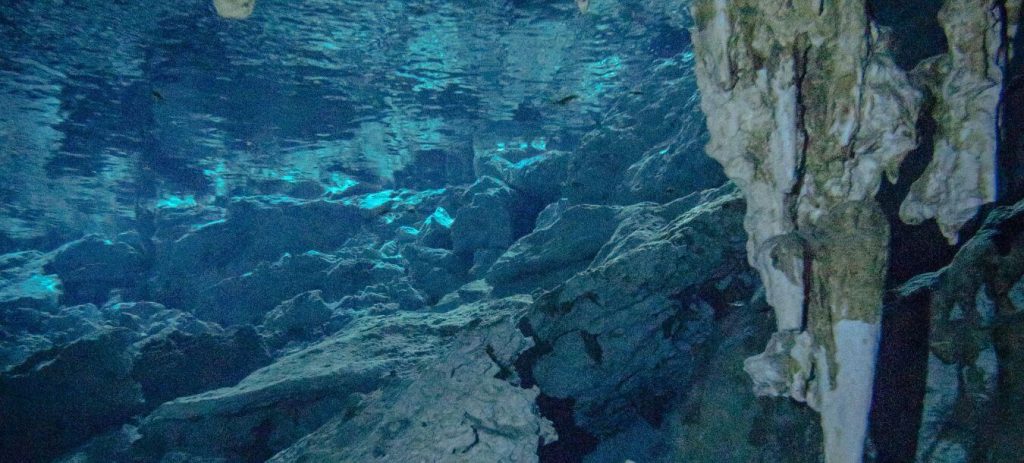 It is highly recommended to wear UV sun-protecting clothing, instead of using sunscreen or any other kind of body lotions or repellents These products and their ingredients can contaminate the water in the cenotes. That is also why you might be asked to take a shower at the cenote to remove all skin product residues from you, before entering.
Visit the cenotes when they open early in the morning – not later than 9 am – so you'd have enough time to explore before it gets hot & busy around 11am-noon.
Make sure to take a bottle of water and a sun cap when you go to the cenotes – you might need to walk for 20-30 minutes from the Collective stop or from the parking lot to the cenote itself.
Make sure to carry MX pesos in cash with you – most places accept cash only.
Have fun and enjoy the cenotes responsibly. Do not touch and break any of their formations: they are thousands of years old. Help us protect their beauty and wildlife for generations to come.